CBD Medical College in Los Angeles
---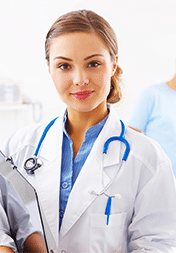 CBD College is a non-profit institution. If qualified for full financial aid, you will have no out of pocket expenses. Books, exams, uniforms, etc. are all covered. (No nickel and diming). We believe in your success!
CBD College is Nationally Accredited by ACCET
Welcome to CBD! If you are interested in building a career in a growing field with a bright future, you've come to the right place. At CBD College, students gain the knowledge and skills needed to work in industries with a wide range of opportunities and specialties. Guided by a professional and dedicated staff, students enroll in a challenging and comprehensive curriculum that suits their individual needs. But the best part of CBD is the sense of community. Friendships develop beyond the classroom among students and staff, and CBD continues to provide cultural and career guidance for a promising future.
We believe that our instructional methods, the pleasant learning environment, and expertise of our staff, are second-to-none in our field. We also firmly believe that every student can and will achieve.
Featured Programs
---
---